Andrew
'
s Editorial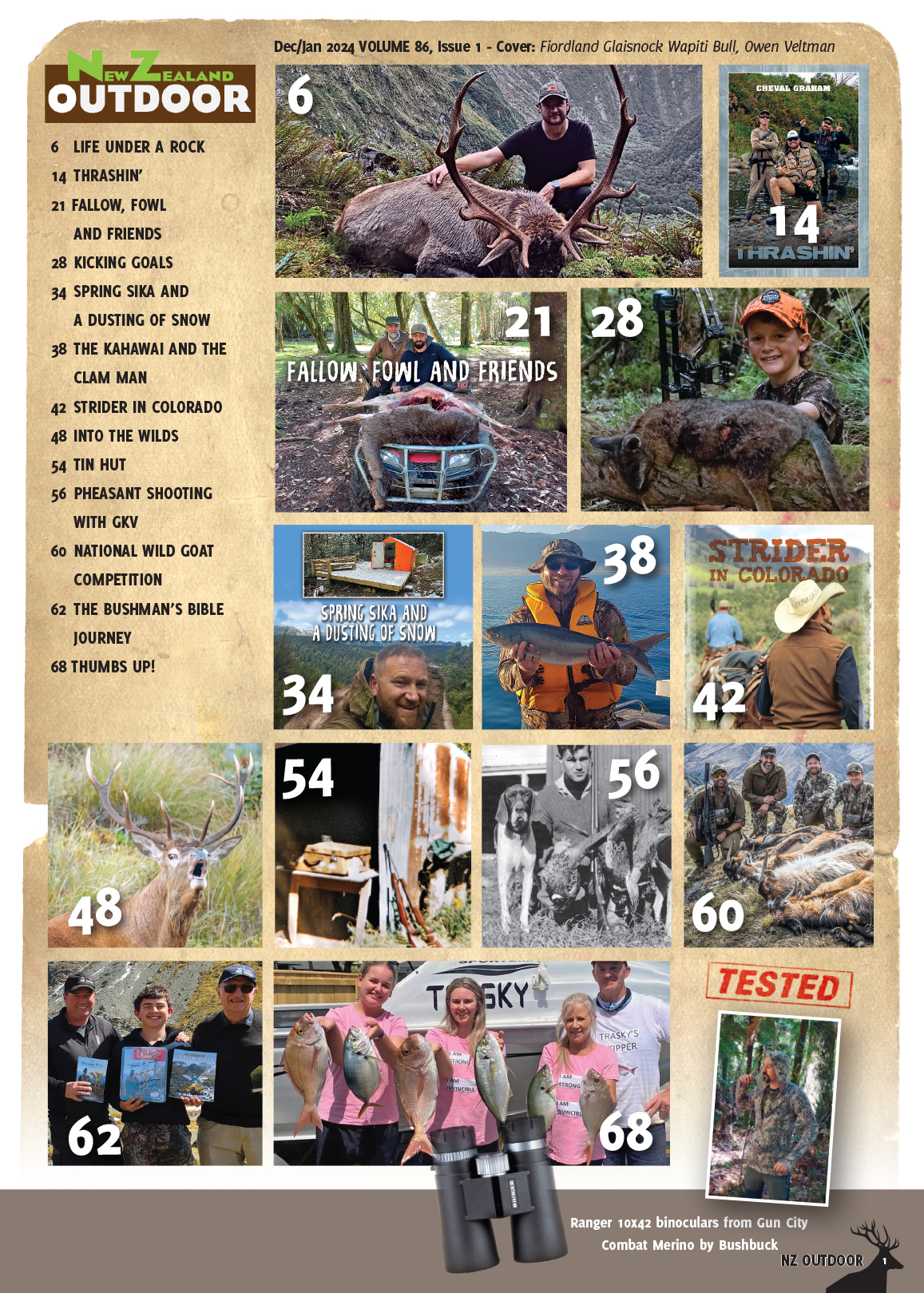 Welcome to the New Year.
I hope you all got some time away or got together with family and friends. Like usual, the Christmas and New Year holiday period is a whirlwind and goes very fast. I managed to sneak in a night's fly camping with my good mate Tim, just before New Year's Eve. We were in sika country, enjoying the nice weather and exploring some new country further afield in one of Tim's father's spots. We hunted leading ridges and benches of a stream which we walked up for about four hours. We ran into a lot of sign and I managed to tip over a nice eating spiker from the river flats. From there I kicked back at the beach for a few days with a spot of fishing and diving. Now it is back at work and one can't help thinking about the roar, which is only a matter of months away now. Hunters across the country will no doubt be feeling the same. However, it is still a great time of year to be in the hills as we head into February and most species of deer will have grown their velvet and started to harden up. This offers a good chance to bag a decent stag, while they are still out in the open feeding up before the upcoming roar.

Those lucky enough to win a wapiti ballot will be getting fit and planning their big adventures into Fiordland. Unfortunately, I missed out so will be spending the time in old haunts chasing red stags in the thick Kaimai jungle, along with a few other possies. With another year upon us again, people will have their goals for what they want to achieve. Whether it's to keep their freezer full or take a trophy animal of any species, or simply both.

Tim and I will also be at this year's Shot Expo in Auckland, on the 23rd and 24th of February. We will be on the NZ Outdoor stand promoting this great magazine, as well as promoting our Roarsome Hunting adventures. Be sure to pop in and have a chat and enter our competition. Enjoy this next couple of months ramping up to the pinnacle of our hunting calendars in March/April. .
Andrew Martin,
Editor/hunter

Contributing Editors: