Andrew
'
s Editorial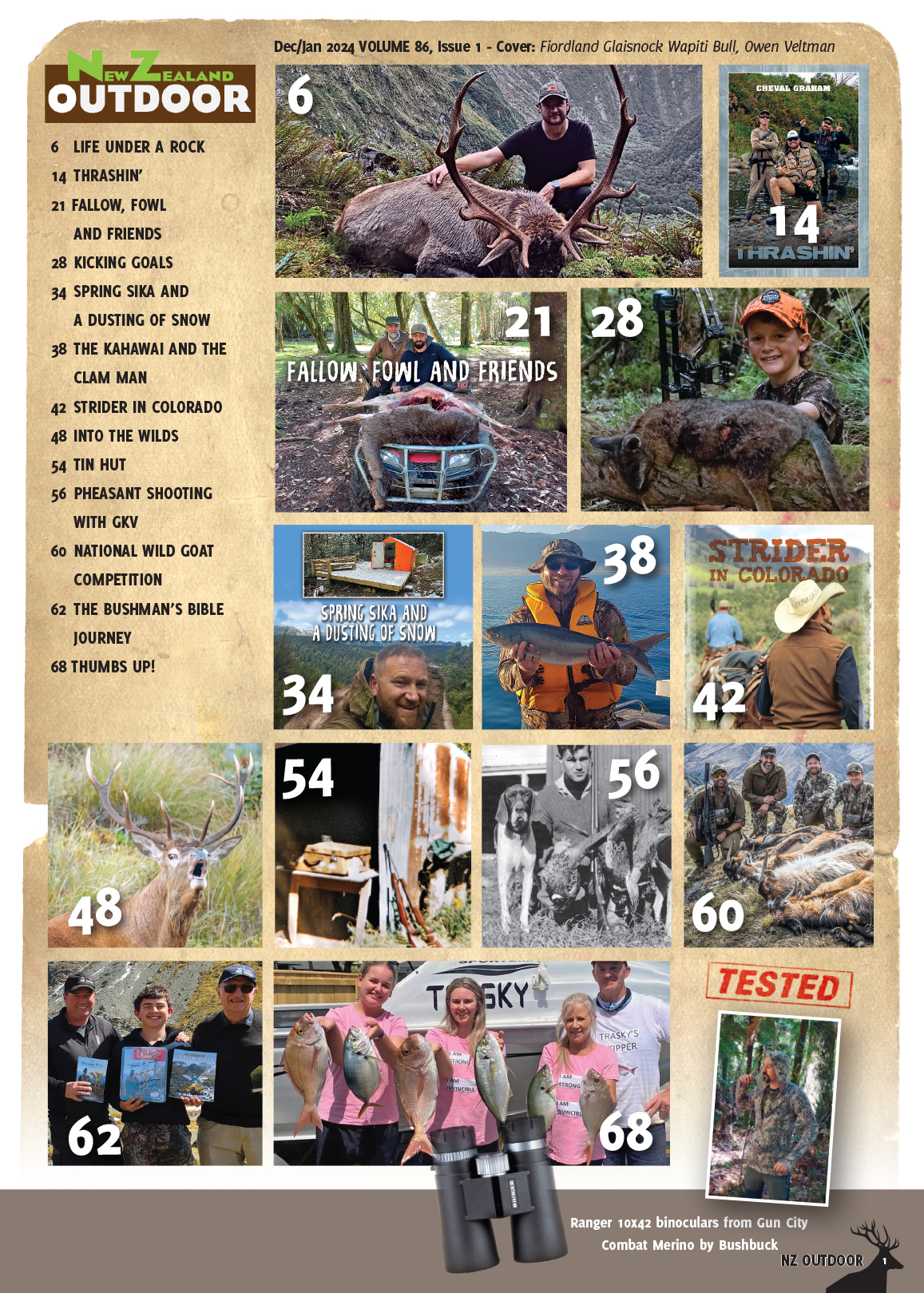 Hello New Zealand Outdoor readers.
I would like to start my introduction as the new editor of this great magazine with a huge thanks to Debra Quaadgras, who has given me the opportunity to become the new editor. It is a real privilege to be welcomed on board and not a position I take lightly. I will be doing my utmost best to help keep the legacy of New Zealand's first hunting magazine alive and well.
There have been several respected editors of this magazine over the years gone by, and now to have an opportunity myself is something I'm very thankful for. I am excited to be a part of this magazine, with talented writers who all bring attributes that help make this magazine the best.
Some of you may already know me through social media; where I run an online blogging page and YouTube channel. This is where my good friend Tim and I share our self-filmed hunting adventures and tips. I grew up just out of Matamata on a family dairy farm, with the mighty Kaimai Ranges placed at my doorstep. The outdoors, particularly the Ranges, have always been a place that I have enjoyed exploring and as years have gone by I can recall many great memories hunting all over New Zealand and around the world.
In recent years, I have also developed a passion for photography. Like most of us who hunt, we start off by shooting most deer we see; cutting our teeth with the many aspects of shooting, field dressing, camping etc. We then move through to being more selective of animals, as well as just enjoying being out there in the wilderness. It is such a privilege we have here in New Zealand and long may it continue.
Rolling into spring when this issue hits the shelves, it is a great time to be out hunting for some meat for the upcoming summer bbq's. Most of the deer species will of started dropping their antlers now and be into growing those big racks we long for come March/April next year. The tahr ballots are open as of the 1st of October through until the 29th of October, as well as the wapiti blocks which close on the 7th of October.
I'm yet to win a wapiti ballot but have been lucky on a few tahr blocks, which offer some great hunting if the weather holds up.

Our next issue will be the December/January issue; the summer edition. Until then I will be out trying to track down a sambar stag, as well as some spring hunts in local possies. It is a great time to be out there with the longer evenings providing good after-work opportunities, so get out and enjoy them. Also to any other writers who would like to share one of your stories, you are what keeps this magazine ticking.
So by all means if you have a memorable hunt we would love for you to put pen to paper for us.
Until next issue, happy hunting,
Andrew Martin,
Editor/hunter

Contributing Editors: