Andrew
'
s Editorial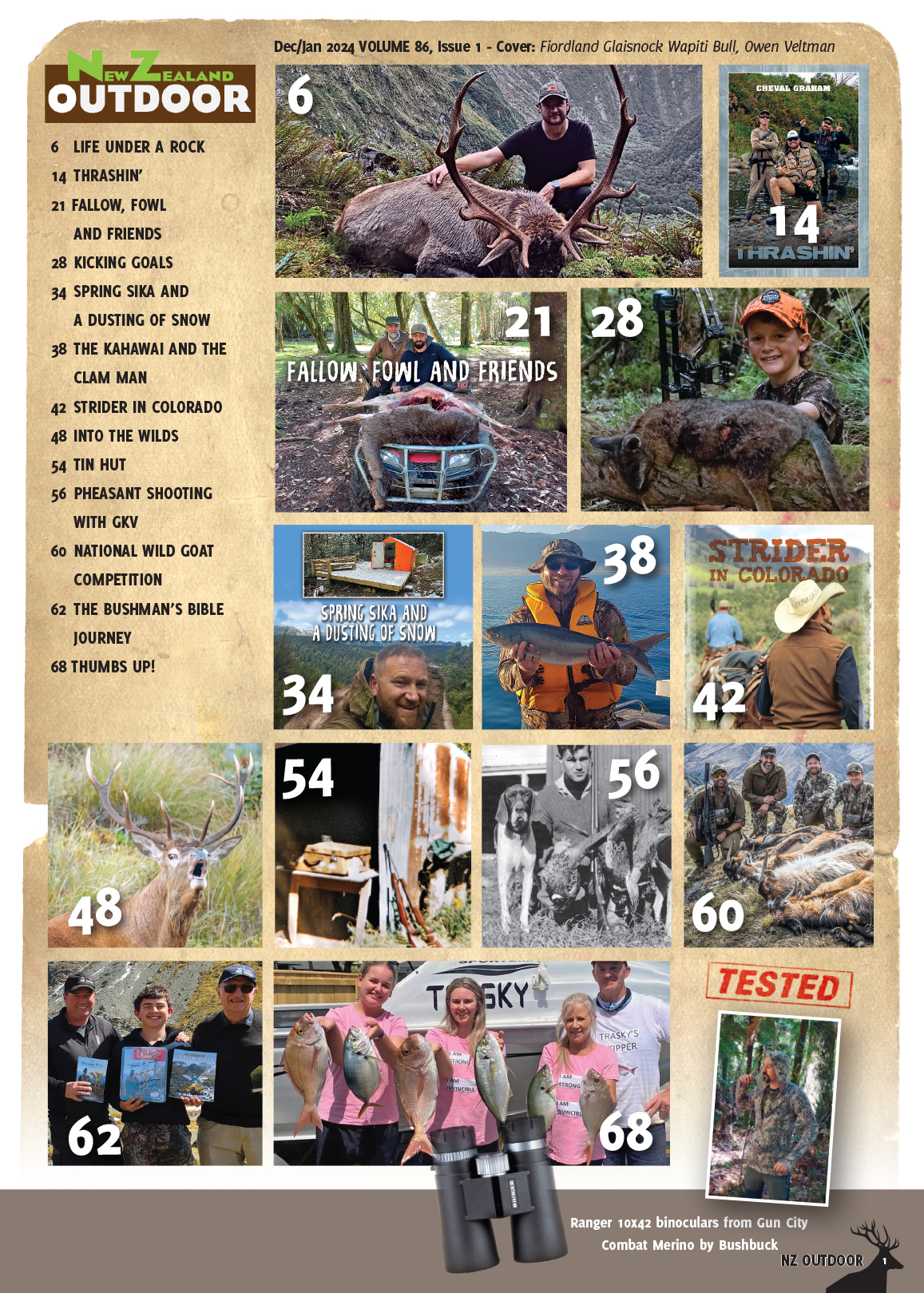 Welcome to our winter issue
It's been a very busy couple of months since our last issue, with the pinnacle of our hunting calendar passing by very quickly yet again. The roar is always such an exciting time when a year's hype finally arrives. The months of planning beforehand and exploring new areas adding to the enjoyment.
As for the roar itself, this year I began with a great rafting trip down the Motu river in late March. Five days of hunting in absolute paradise and securing a nice boar and decent Motu stag and yearling for meat to fill the freezer. I then hit the Pureoras with a couple of mates and headed into my friend Glen's campsite. This was my third year into this area but although the stags were roaring hard at night, it was difficult to keep them vocal during the daylight hours. We still managed a decent eight-point stag for the trip.
To finish the roar period off, I completed a solo three-day trip into the Kaimais.  Facing some seriously wet weather, the mature eight-point Kaimai bush stag was hard earned.
Finally, Tim and I scheduled a few nights away together to one of our spots. We had some good roar action and Tim managed a Kaimai stag, that certainly needed to be culled. We experienced some cold nights but fresh venison over a good campfire made it a successful weekend.
Recently, I have spent a few days chasing sika and searching for fallow. We also have the duck shooting season and then it is off on an alpine hunt for tahr.
I am currently busy field testing some great products while I am spending so much time in the outdoors. I look forward to sharing these reviews with you over the coming issues.
You would have noticed recently that we have a fresh new look for 2019. This is the first positive step in ensuring NZ Outdoor appeals not only to the hunter but to everyone that loves being in the outdoors. We think it's a great thing for the magazine going forward. If you have experienced your own great 'outdoor' adventure and taken some nice photos we would be keen to publish your story. 
Reports on wapiti blocks this year from the people I have talked to are positive. There were good numbers of wapiti about, with a few nice mature bulls spotted. This is promising for the future of wapiti.
As we launch into winter, we have an excellent article from Tim Menzies on winter hunting and what to keep in mind as you head out into the hills or mountains. We also have a great team of regulars who all do a top job in sharing their stories and giving readers a glimpse on the benefits of being in the outdoors. For now, I hope the roar, duck shooting, alpine hunting and any other winter adventures you have planned go well. Until next issue, keep having fun in the outdoors.
Andrew Martin,
Editor/hunter